Statistics (?)
Total Users:
115467
Last 24 Hours:
1162
Last 30 Days:
7487
Total Windows:
104583
Total Linux:
6858
2011-05-17 11:10 UTC
Trees and Grass
A new combobox added to the 'Create' dialog allows selecting the kind of tree or grass to be rezzed.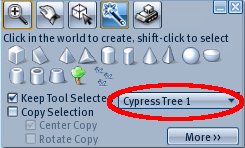 To get the old random behavior choose 'Random' at the top of the list.
The combobox is enabled only when the tree or grass tool is selected. The last choice is remembered in the user settings across sessions.
To try it out, follow these steps:
Hit CTRL-4 to bring up the create dialog.
Click on the tree symbol.
Select a tree from the combobox.
Click anywhere on the ground to rez the selected kind of tree.
Happy rezzing!